AniberSAYA sa Barangay V: The fun never stops!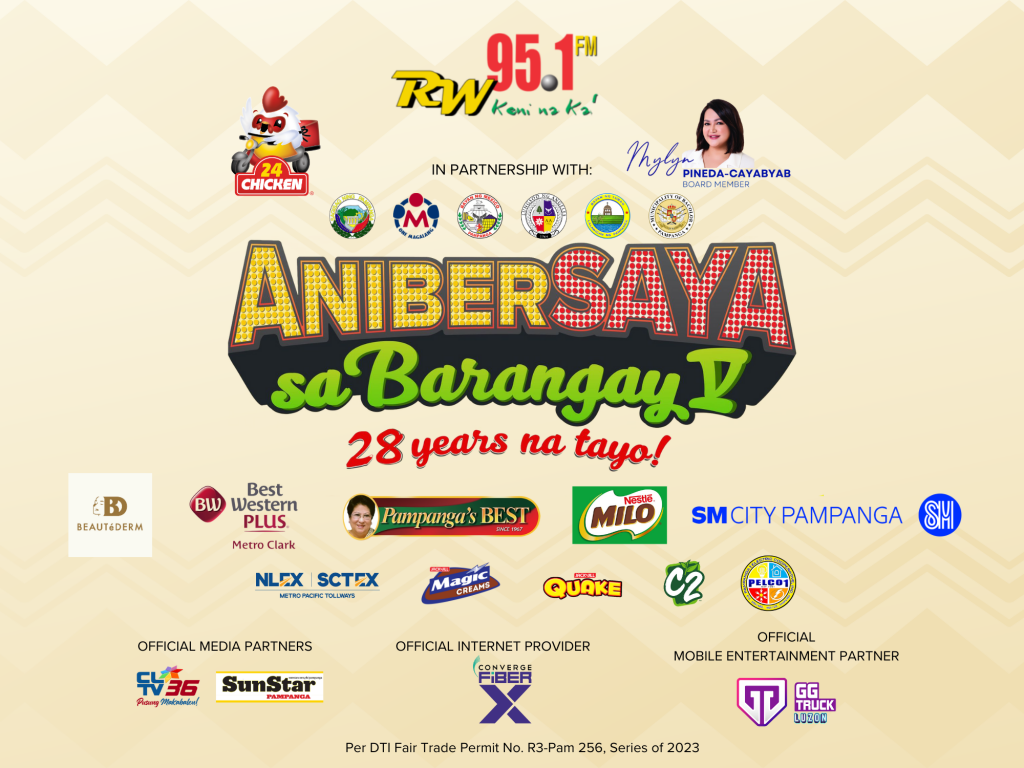 By Sophia "DJ Ellie" P. Velasquez
Despite the challenges that our community has faced in the past, such as the devastating Mt. Pinatubo eruption in 1991, the fun never stops in AniberSAYA sa Barangay V, an event that brings joy, laughter, and entertainment to the people in the featured barangays and surrounding areas.
The Mt. Pinatubo eruption was a terrifying event that left our cabalens in a state of confusion and fear. Imagine waking up to dark, ominous clouds hovering in the sky, only to have your walls and roofs cave in from the force of combined magma, water rains, and ashes. It was a horrifying experience, made even worse by the lack of information about what was happening. Many people felt like it was the end of the world.
But in times of great adversity, the magic of strong will and determination emerges. Just like the Avengers fighting against Thanos to save the world, our community came together with a determination and passion to overcome the challenges we faced. Our late Chairman, Levy P. Laus, was a shining example of this magic. His dreams and visions coalesced with his perseverance to create RW 95.1 FM, which has remained a reliable source of news, comfort, and enjoyment for our community.
Since its establishment in 1995, RW 95.1 FM has been a beacon of resilience and positivity in our community. Despite the storms, earthquakes, and the deadly coronavirus or COVID-19 pandemic that cost millions of lives and has taken toll on our mental and psychological health, RW stood strong, providing the people with the information and music they need to uplift their spirits. There is something magical about timeless and classic music that can mend our anxious hearts and souls.
We, as Kapampangans, have not earned our resilience easily. It is something we have learned through experience, braving the storms and living with them. RW 95.1 FM has been with us every step of the way, providing us with the necessary information and great music to lift our souls.
"Our plans are bigger than whatever adversities our region had ever been, that is why we tirelessly work for a much stronger and even wider coverage to better serve our cabalens," said, Niña Carla "DJ Tyra" M. Vitug, Assistant Vice President and Operations Head.
In the face of recent storms, such as Falcon and Egay, AniberSAYA sa Barangay Part V aims to bring smiles and laughter back to our community. This event will be held on successive Saturdays: Brgy. Ayala, Magalang on August 19, 2023; Brgy. San Jose Malino, Mexico on September 2, 2023; Brgy. Malabanias, Angeles City on September 9, 2023; Municipality of Lubao on September 16, 2023; and Brgy. Tinajero, Bacolor on September 23, 2023.
No matter what life throws at us, RW will always find a way to drive away the gray skies.
We would like to extend our gratitude to our sponsors, 24 Chicken Delivery, Pampanga 2nd District Board Member Mylyn Pineda-Cayabyab, Beautederm, Best Western Plus Metro Clark, Pampanga's Best, Milo Philippines, SM City Pampanga, NLEX Corporation, PELCO I, Magic, C2 and Quake.
We would also like to thank our partners, such as the Provincial Government of Pampanga, City Government of Angeles and the municipalities of Magalang, Bacolor, Mexico, and Lubao. Without their support, events like AniberSAYA sa Barangay V would not be possible.
Our appreciation also goes to Converge Fiber X, our official internet provider, CLTV 36 and Sunstar Pampanga, our official media partners, and GG Truck Luzon, our official mobile entertainment partner. Their contributions have been invaluable in making this event a success.
Let's come together and celebrate this event, painting smiles and drawing laughter once more.
Per DTI Fair Trade Permit No. R3-Pam 256, Series of 2023.