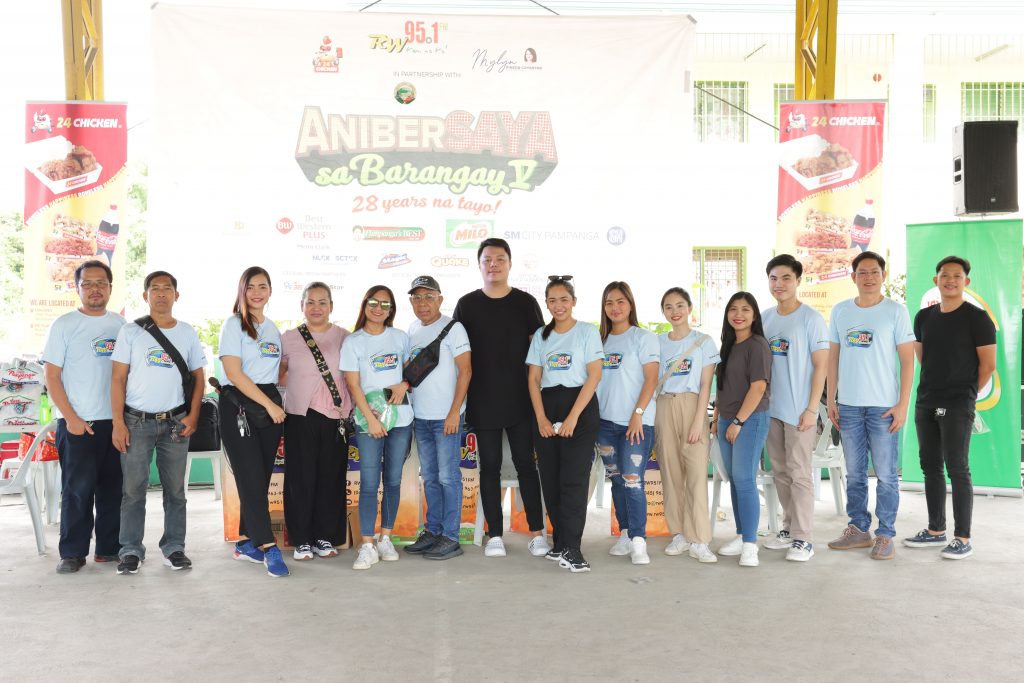 By Sophia "DJ Ellie" P. Velasquez
In life, we often find ourselves faced with challenges and obstacles that seem insurmountable. However, it is during these difficult times that we must strive to make the best out of every situation. This is exactly the spirit behind AniberSAYA sa Barangay V, a celebration of resilience and optimism. No matter how many lemons life throws at us, we always find a way to draw smiles and laughter from our community.
In honor of our 28th anniversary, AniberSAYA sa Barangay V spanned across five consecutive Saturdays, starting from August 19, 2023 at Barangay Ayala, Magalang; September 2, 2023 at Brgy. San Jose Malino, Mexico; September 9, 2023 at Brgy. Malabanias, Angeles City; September 16, 2023 at Brgy. San Francisco, Lubao; and, September 23, 2023 at Brgy. Tinajero, Bacolor.
Each event was held in a different barangay, bringing joy and festivities to various communities. The locations included Brgy. Ayala in Magalang, Brgy. San Jose Malino in Mexico, Brgy. Malabanias in Angeles City, Brgy. San Francisco in Lubao, and finally Brgy. Tinajero in Bacolor.
To combat the sweltering heat and humidity, sweet iced refreshments were provided to the attendees, courtesy of Milo Philippines. This thoughtful gesture ensured that everyone could enjoy the festivities without being weighed down by the weather.
The event kicked off with the classic game "Bring Me," sponsored by Converge Fiber X. It was heartening to see people of all ages and generations come together to participate and enjoy this timeless game. Following that was "TikTokerist of the Barangay," where participants showcased their talents by dancing to viral TikTok challenges. Filipinos are known for their innate talent, and it was evident in the incredible performances.
One game that never fails to amuse the crowd is "Hep Hep Hooray," sponsored by the Provincial Government of Pampanga. Contrary to popular belief, our lolos and lolas (grandparents) showed that age is just a number as they demonstrated their sharpness and agility. Their funny tactics and comedic charm elicited laughter from everyone present.
For the sports enthusiasts, the game "Shoot the Ball," sponsored by Milo Philippines, provided the perfect outlet for their energy and competitiveness. Men of all ages participated, showcasing their skills and adding an extra level of excitement to the festivities.
However, the highlight of the event was undoubtedly the "Singing GONG-test." Five lucky participants were chosen to showcase their singing talents by performing either Morisette Amon's "Gusto Ko Nang Bumitaw" or Juan Karlos Labajo's "Buwan." The display of talent was astounding, and it served as a reminder of the immense talent that Filipinos possess.
No celebration is complete without prizes, and AniberSAYA sa Barangay V did not disappoint. Grand raffle prizes, sponsored by the Provincial Government of Pampanga, Pampanga's Best, and Best Western Plus Metro Clark, were given away to lucky individuals selected through an electronic draw. Grocery packs, gift packs, and appliances brought joy and excitement to the recipients. Additionally, the "Faces of the Day" were recognized and awarded beauty packs sponsored by Beautederm.
The success of AniberSAYA sa Barangay V would not have been possible without the unwavering support of our loyal listeners, advertisers, sponsors, and the hardworking team of RW 95.1 FM. We are grateful for your continuous love and support, and we are committed to finding more ways to bring joy and entertainment into your lives.
A special thank you goes out to all the government officials who played a significant role in the success of this event. Pampanga Governor Dennis "Delta" D. Pineda, Pampanga Vice Governor Lilia "Baby" G. Pineda, Pampanga 2nd District Board Member Mylyn Pineda-Cayabyab, Magalang Mayor Malu Paras-Lacson and Brgy. Ayala Chairperson Bienvenida G. Bautista; Municipality of Mexico and Brgy. San Jose Malino Chairperson Engr. Ramonito D. Bautista; Angeles City Mayor Carmelo "Pogi" Lazatin Jr., Vice Mayor Vicky Vega-Kabigting and Brgy. Malabanias Officer-in-Charge Alexander M. Flores; Lubao Mayor Esmeralda "Esmie" G. Pineda and Brgy. San Francisco Chairperson Francisco "Bong" S. Villena; Bacolor Mayor Eduardo "Diman" G. Datu and Brgy. Tinajero Chairperson Yolanda P. Alfonso.
AniberSAYA sa Barangay V was presented by RW 95.1 FM. It was in partnership with the Provincial Government of Pampanga; City Government of Angeles; and, the municipalities of Magalang, Bacolor, Mexico and Lubao.
We would like to extend our heartfelt gratitude to our sponsors: 24 Chicken Delivery, Beautederm, Best Western Plus Metro Clark, Pampanga's Best, Milo Philippines, SM City Pampanga, NLEX Corporation, PELCO I, Magic, C2 and Quake.
Our appreciation goes to Converge Fiber X, our official internet provider, CLTV 36 and SunStar Pampanga, our official media partners, and GG Truck Luzon, our official mobile entertainment partner.
As we reflect on the success of AniberSAYA sa Barangay V, we look forward to the future with excitement and optimism. Rest assured that RW 95.1 FM will continue to find innovative ways to bring joy and entertainment to your lives. To our loyal listeners, advertisers, sponsors, and the entire RW team, thank you for being with us every step of the way. Cheers to more fruitful years and many more celebrations to come!