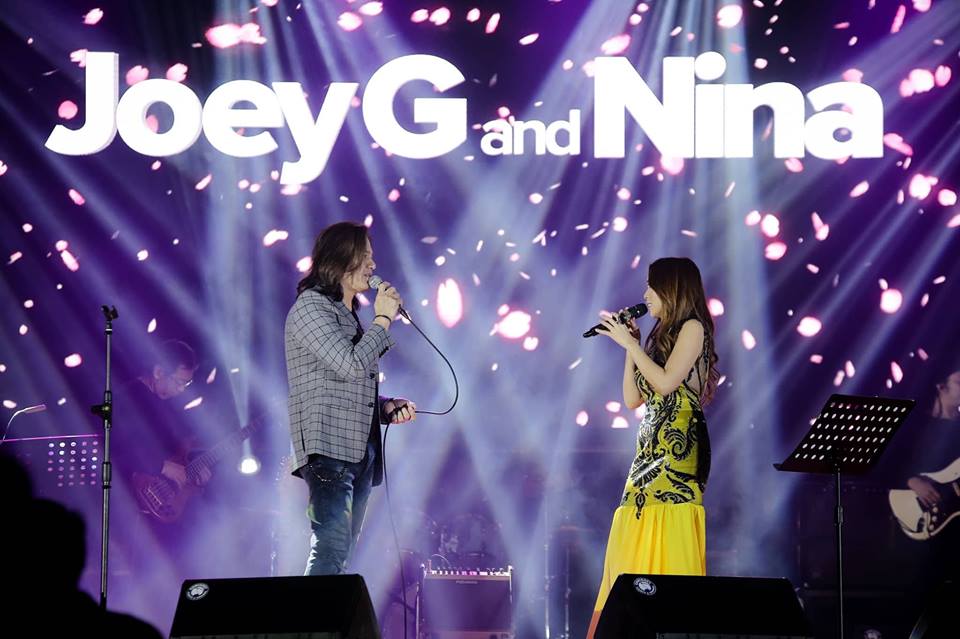 Joey G and Nina Concert
Perfect combination of rain, soulful songs
Nothing could hold back the fans from watching a one shot concert when they know it might not happen again this close to home. Not even torrential rains nor inundated streets and highways stopped them from coming to LausGroup Event Centre last June 15, 2018, for the Perfect Soul concert featuring Joey G and Nina.
People were at the venue two hours before the show even started. I can't blame them. Who wouldn't want a good spot while watching two of the finest and respected entertainers in the Philippine Industry?
Nina was on stage at exactly 8:00 PM, just as promised. Not a moment was wasted, she started off the show with a medley of Barry Manilow's classics.
Picture this: bed weather; comfortable seats; lights on dim; unparalleled sound system (the all sound proof features of the concert venue made us forget it was raining hard outside); and, then, there's the Diamond Soul Siren singing Barry Manilow's "I Write The Songs" and "Even Now."
The mood was getting nostalgic when the song "Somewhere Down The Road" started playing.
The crowd was left in awe and then turned sentimental as soon as Nina sang "We Had The Right Love At The Wrong Time…"
Well, let's admit it. We all dedicated that song to someone sometime in our lives. And, to finally wrap up the medley, she sang "Weekend in New England".
That part was absolutely sensational. Those romantic ballads perfectly coalesced the weather and the LausGroup Event Centre's ambiance. It was just amazing how songs from the 70s still pierce through the heart just like when the first time they aired over the radio. I guess, that's the reason we call them timeless.
Alas, we'd only just begun. This young lady had completely brought us further down an emotional journey when she sang her fans' all-time favorites "I Love You, Goodbye", her rendition of a Celine Dion piece; her original hit "Someday"; and, Julia Fordham's "Love Moves (In Mysterious Ways)" and then dazzled us with "Loving You", "Bukas Na Lang Kita Mamahalin" by Lani Misalucha and "Till They Take My Heart Away."
Now, here's my favorite part. Before Nina's graceful exit, she and Joey G gave us a romantic collaboration. Their sublime version of "What Do We Mean" made the crowd singing along! Joey G's high pitch was A1!
Next was "Foolish Heart". We all know both of them had recorded their own great versions of that song yet it was even better to hear them sing it together.
Before officially leaving the stage for a Joey G solo, Nina sang with the former Side A band vocalist the timeless "Bakit Ngayon Ka Lang" by Ogie Alcasid. And, yeah, their blending was superb!
Taking the floor now all to himself, Joey G warmed up the stage with Jack Wager's "All I Need" and then a back-to-back of OPM favorites such as "Aking Awitin" Ogie Alcasid's "Nandito Ako", Ariel Rivera's "Sana Kahit Minsan", Basil Valdez's "Tuwing Umuulan" and Rey Valera's "Kahit Maputi na ang Buhok Ko".
And just when everyone's starting to be mushy with their loved ones, Joey asked if it was okay to sing Side A songs. Of course! The crowd, thrilled and electrified on their seats, shouted in agreement.
I bet everyone was waiting for their favorite Side A song to be played and Joey G obliged with "Set You Free" and "Tell Me". Slowly the songs started to sink in. Puppy love, childhood crushes and petty heartaches began flashing back when he sang "Forevermore".
Well, I've known Side A band and Joey G for more than two decades now. He used to be all over the radio and, I tell you, he still sounded exactly just as he did 20 years ago.
The only difference was that, then, I was outside the concert venue because we didn't have the money to buy tickets (I was only 10 years old, mind you!). Last Friday, I still didn't have much money (LOL!) but, at least, I was comfortably seated in a premier concert hall for a very reasonable price.
If Nina started-up the concert in a very romantic mood, Joey G ended it with his disco-tinged versions of Bruno Mar's "Uptown Funk", MJ's "Love Never Felt So Good" and encored with "Treasure".
Perfect Soul was brought to you by RW 95.1 F & Countryside Entertainment, Inc., in partnership with Laus Auto Group with Major sponsor Converge Fiber X. RW 95.1 FM would also like to thank BGC Concrete Batching Plant; Clark International Airport Corporation; Redd Manor; Royce Hotel and our
Official Media Partner: CLTV36
by: Aubrey "DJ Alex" Sembrano