Rw 95.1 Fm Joins Broadcastreeing for a Greener Earth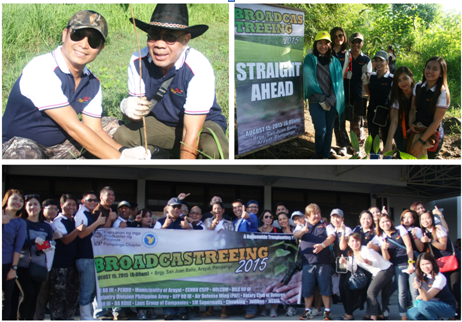 At exactly 7 o'clock in the morning, media practitioners, along with private sector representatives, business owners, various government entities and civic groups  participated in the ecological campaign to create more awareness of the pressing need to look after Mother Earth.  "Today, natural calamities have become alarmingly high and increasingly violent. It is evident that the environment is taking a beating, brought by the adverse effects of our society's own actions. It was out of a wish for a greener planet for that 'Broadcastreeing' was annually organized," shared Perry R. Pangan, general manager of RW 95.1 FM and KBP Pampanga chapter chairman.
"The initiative, simple as it may sound, will be a lasting legacy to our future generation. That's why it has become a practice for the last few years, and optimistically will continue on the years ahead," he added. "Broadcastreeing" is KBP's contribution to the government's National Greening Program, which envisions an environment-friendly Philippines. The advocacy encourages Filipinos to plant at least ten seedlings within the next six years to raise a million new trees in the near future.
The first three tree-planting activities were held along riverbanks in the City of San Fernando and the towns of Mexico and Floridablanca. Last year, more than 3,000 tree saplings were planted in a large swath of land in the foothills of Mt. Arayat. This year, "Broadcastreeing" returned to San Juan Baño, the place of the deadly 2009 landslide that killed 12 people and displaced dozens of families.
This was participated in by Municipality of Arayat headed by the Honorable Emmanuel Bonifacio M. Alejandrino; DENR RO3; PENRO; CENRO-CSFP; NOLCOM, AFP; 7th Infantry Division, Philippine Army, PNP RO3, BFP RO3, ADW PAF, DILG RO3, DA RO3, Laus Group of Companies, Rotary Club of Dolores, Pampanga Medical Society, Pampanga State Agricultural University, BJMP, Ukyat Pampanga Mountaineers, Phi Beta Rho and Quarry Operators, SM Supermalls, Jollibee Food Corporation, Volunteer Teachers from Candaba, Pampanga Press Club, CLTV 36, ABS-CBN Pampanga, GVFM 99.1, DWAU 104.1 FM and BUKAS BAYAN.  Special thanks to Chowking, Aqua Sparkletts and Mr. Jess Nicdao.