Rw 95.1 Fm, 20 Years on the Airwaves 'sticker Ko, Idikit Mo' Back on the Road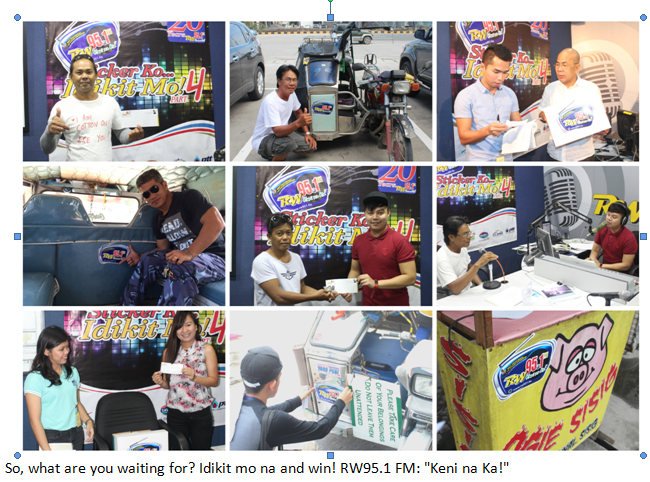 CITY OF SAN FERNANDO— Central Luzon's two-time best FM radio station adds another feather on its cap as it celebrates its 20th anniversary on the airwaves —A good reason for "Sticker Ko, Idikit Mo" to be back on the road.
More are guaranteed to join the long list of winners in the LausGroup-run DWRW 95.1 FM's anniversary blowout: "Sticker ko, Idikit Mo" Part 4.
"Twenty years after, RW 95.1 FM is still at it, staying close and connected with all our listeners while continuing to keep our cabalens and ka-rehiyons informed, educated and entertained on-air with music, commentaries and shows that define our region and the Kapampangan culture in particular," said DWRW 95.1 FM General Manager Perry Pangan.
"Sticker Ko, Idikit Mo," on its fourth consecutive year, is just one of our ways to stay connected and thank all our supporters, the general public in particular," he added.
Public utility vehicle drivers, private car owners, establishments and vendors will still get the chance to bring home P1,000 in cash by simply placing the RW "Keni na Ka!" sticker in a visible area of their jeepneys, buses, vans, cars, tricycles, pedicabs, stores, and booths, when stickering happens again on August 17 (Betis, Guagua, Lubao, Sta. Rita ,Golangco ,and Florida Blanca), August 20 (Angeles), August 27 (Mabalacat), and September 1 (Apalit) and September 3 (Sta. Ana, Candaba, Arayat, San Luis and Magalang).
A day after the stickering date, raffle winners will be announced and on-air interviews will be done on Talakayan Ngayon (9:00 am to 10:00 am), Music Babad (10:00 am to 12:00 noon), R.U.N. (12:00 noon to 3:00 pm), Afternoon Ratsada (3:00 pm to 6:00 pm) and Ingat sa Road (6:00 pm to 8:00 pm). All participants have to do is fill out a raffle form with details and put the sticker on the vehicle or store for a chance to join winners like for August 10: Matias Figueroa, Antonio Garica, Carlo Feleciano, Jhun Esguerra, Larry Zapata. August 13: Eldread Naparato , Ma. Lilia Gonzales, Bernie Manalo, Nolan Gonzales and Arthur Bacani.