Jed Madela, Madrigal Singers in one musical extravaganza for the senses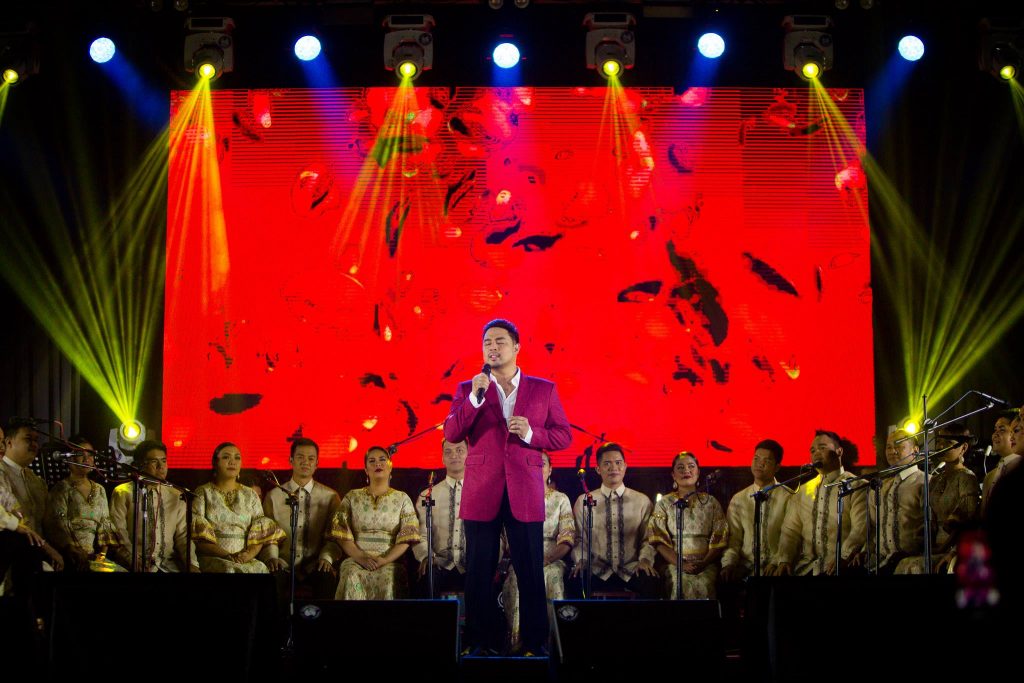 By Aubrey "DJ Alex" F. Sembrano
I think our senses have their own way of recognizing what is spectacular. You hear something incredible and your eyes focus on it; your ears lock on it; your skin's hair follicles contract, give you goosebumps and a certain chill crawls down your spine; and, your palm repeatedly strike together to express the astonishment.
I felt it the moment The Philippine Madrigal Singers stunned us with that amazing rendition of the "Circle of Life."
I wondered how could music take us into another dimension of life. After a very long time, I remembered again how it took me so long to get over Mufasa's death in the movie "Lion King". Yes, childhood days came flashing back again.
I guess everyone who was there would agree that the introduction truly gave us that magical feel while the succeeding performances were even more phenomenal.
Singing "A Million Dreams" from the flick "The Greatest Showman" and a medley of "Climb Every Mountain", "You'll Never Walk Alone", Adele's "All I Ask", "Make You Feel My Love", Michael Jackson's "Man In The Mirror" and Lani Misalucha's "Bukas Na Lang Kita Mamahalin".
No one dared to sing along, probably because people were too awestruck to even open their mouths. And I guess even that lowest steady hum deserves stillness to be heard well.
And then there was silence.
Jed, very carefully and politely set his foot at the center. The huge crowd, despite wanting to give a resounding welcoming applause for world renowned artist, held back their excitement.
I personally felt it was disrespectful to make unnecessary noise.
And, then, in perfect blending of their voices, they started singing "Sana Maulit Muli." We were all filled with reverential respect with a mix of wonder. I never thought a capella could be this divine—it's one of the most classical thing I have ever witnessed in my life.
It was Jed Madela's turn in his solo. The Philippine Madrigal Singers very smoothly exited the stage. The mood loosened up when he gave us a warm version of "The Way You Look Tonight."
Jed looked sharp in that red suit.
His enunciation and calm voice made us listen more attentively as he told us the story behind the next song. He knew perfectly what to say to make us appreciate the song further, and when the band started playing "Hanggang", the crowd fell in love—or if there is a more powerful word than "love", by all means please rephrase my statement.
He sang "To Where You Are" by Josh Groban, a medley from Michael Bublé, "Love Story (Where Do I Begin)", Freddie Mercury's "Love of My Life" and then Ben E. King's "Stand By Me".
This man knew what he was doing. He was singing the greatest classical songs ever!
At this part, Madz were back on stage in their elegant costume, perfectly suited for the song "Nessun Dorma."
I've witnessed a lot of performances before but why did I feel like this concert was very prestigious? Love and so much respect for these two artists filled the venue.
It had been an hour and a half but we barely noticed. There was a part of me that ached knowing this beautiful experience was ending soon.
As they bade goodbye, Jed and Madz gave us an exemplary rendition of Ed Sheeran's hit and my description matched the song's title. It was "Perfect."
Their melodic unison, choreograhy, the lights and that crispy, clear sound were unparalleled. You can't afford to hear the slightest murmur when you listen to these angelic voices and I can't imagine a better venue for this prestigious concert than the LausGroup Event Centre.
The show was so satisfying to hearts content that you wouldn't want that feeling to be over. The crowd shouted "more" for the concert that felt like it was Valentines in December.
Finally, to make the night feel more like the Yuletide, Jed and Madz sang "Munting Sanggol" and that classic OPM Christmas song "Kumukutikutitap."
They took their bow and the audience took pride in witnessing this marvelous event. Well, they won't be world renowned for nothing.
Thank you, RW 95.1 FM, Corporate Guarantee and sponsors RJ Paras Builders and Trading Inc. and CLTV 36 (official media partner) for this concert experience.
Like the many who was in that venue, I'd forever be grateful. It was one of the most beautiful things one would have experienced in his lifetime.