Let's Celebrate Fun and Laughter on Rw's 23rd!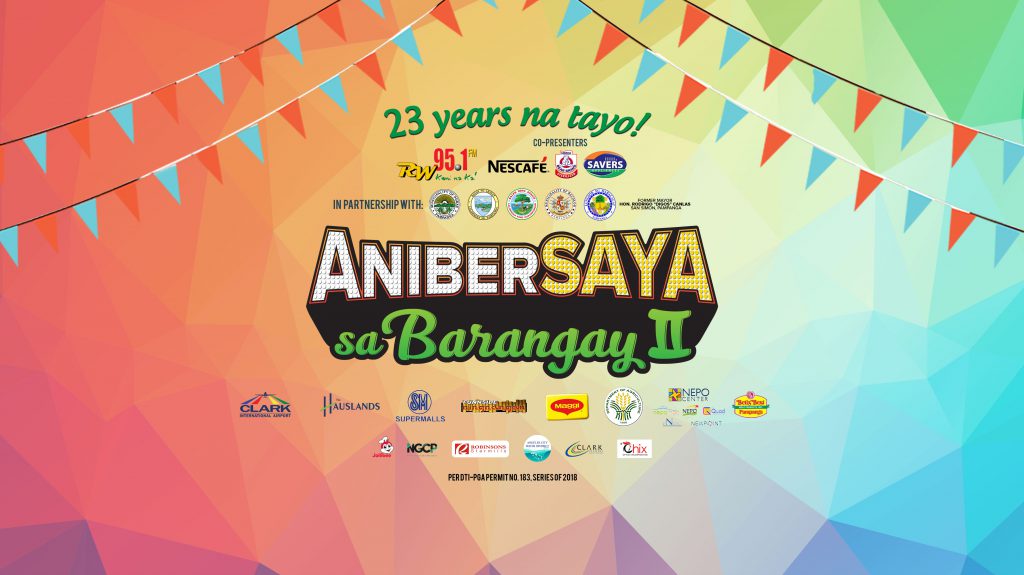 You know it was a fruitful year when you just had an Ice Seguerra concert in February; Nonoy Zuñiga in March; Lani Misalucha in April; Stephen Bishop in May; Joey G and Nina for June; and, two Golden Dove awards for "Best Radio Promotional Material" and "Best Provincial Public Affairs Program"—all within a year! All produced and earned by the hard working and enthusiastic people of your multi-awarded radio station in the Philippines, RW 95.1 FM.
And now, in celebration of our 23rd Anniversary, we can't afford not to give back all the love and warm support you have showered us all through the years. From our radio programs, promos, concerts and other activities, you have all been there. From the bottom of our hearts, we thank you so much for making us a part of your lives!
Now it's our turn!
Catch the voices you hear over the radio for decades now, DJ Tyra, Kian, Alex, Lauren and Cassie; news and public affairs hosts and commentators Perry Pangan, Boy Santiago and Albert Lacanlale, together with the whole team of RW, as we visit selected towns in Pampanga areas to personally give away cash, grocery items, gift certificates and, most importantly, fun and laughter for the much anticipated "Anibersaya sa Barangay! Part 2"
Yes, we are bringing it back due to popular demand! But, this time, we are making it bigger and more exciting with bigger cash prizes, groceries, appliances, gift certificates and many more!
The first 500 individuals who can bring the required things announced over the radio will qualify and will be given raffle numbers. From these 500 lucky people, five (5) winners will be picked in the raffle draw to sing-along with a given piece on radio. Winners will take home cash and gift packs.
See you August 24, 2018 (Friday) at Model Community, Barangay Pio, Porac; August 31, 2018 (Friday) at Barangay San Juan Baño, Arayat; September 07, 2018 (Friday) at Barangay San Juan, Apalit; September 14, 2018 (Friday) at Barangay San Pedro, San Simon; September 21, 2018 at Madapdap Resettlement, Brgy Dapdap, Mabalacat City; September 28, 2018 (Friday) at Mauaque Resetlement Center, Barangay Sapang Biabas, Mabalacat City.
We are all set and we can't wait to see you there!
Our heartfelt gratitude to the town and barangay officials for their warm welcome and assistance: Porac Mayor Carling Dela Cruz and Barangay Chairman Genario Dimalanta; Arayat Mayor Bon Alejandrino and Barangay Chairman Froilan Soriano; Apalit Mayor Peter Nucum and Barangay Chairman Jaime Manlapaz; San Simon Mayor Leonora Wong, Former Mayor Digos Canlas and Barangay Chairman Gerry Quiambao; Bacolor Mayor Jomar Hizon and Barangay Chairman Javier P. Taruc; Mabalacat City Mayor Cris Garbo and Barangay Chairman Soraida Cabuang.
RW Anibersaya Sa Barangay Part 2 is brought to you by our co-presentors Nescafe, Bear Brand and Savers Appliances. This is in partnership with Municipalities of Porac, Arayat, Apalit and Bacolor; Mabalacat City and Former Mayor Digos Canlas of San Simon Pampanga.
Our Major Sponsors include: Clark International Airport Corporation, The Hauslands, Nepo Center, SM Supermalls, Funnside Ningnangan, Maggi Magic Sarap, Department of Agriculture Region 3, Betis Best Meat Products Inc.
Our Minor Sponsors are Jollibee, Robinsons Starmills, Angeles City Water District and Clark Development Corporation.
Special thanks to National Food Authority Pampanga, Puregold Duty Free Clark, Sabels BBQ and CLTV 36, our official media partner.