Rw's 'anibersaya Sa Barangay' Lovelier and More Fun the Second Time Around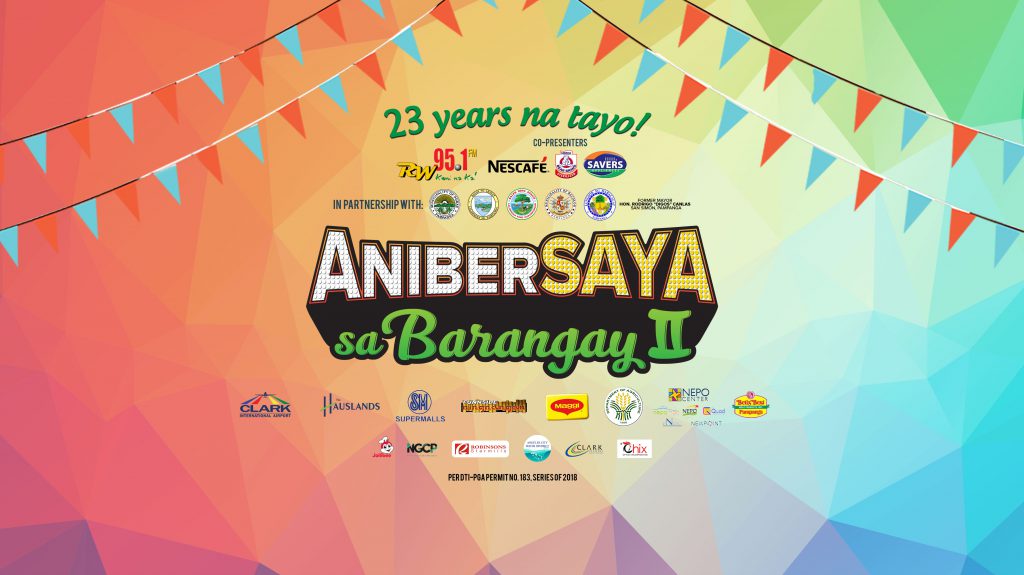 TURNING 23 has never been this overwhelmingly amazing! From the sponsors, prizes and to the outpouring support and presence of our listeners, we just couldn't ask for more!
Your countryside radio, RW 95.1 FM, recently had its celebration dubbed as "AniberSAYA sa Barangay Part 2!" Although we aim to visit all of our avid listeners within Pampanga, we can only do so much at a time. Hence, we decided to do it again, this time, by going down to Model Community, Barangay Pio, Porac; Barangay San Juan Baño, Arayat; Barangay San Juan, Apalit; Barangay San Pedro, San Simon; Madapdap Resettlement, Barangay Dapdap, and Mauaque Resettlement Center, Barangay Sapang Biabas, Mabalacat City.
The first 500 individuals who registered were given raffle numbers. From those 500 lucky people, five (5) winners were picked in the raffle draw to sing-along a given song piece which was aired over the radio the following day. Consolation prizes were also given to those who participated in different games and raffle draws. While the 5 grand winners, bagged appliances, groceries, gift certificates and cash prizes!
We were the ones supposed to give joy and laughter but it turned out to be the other way around. All those hilarious conversations with the senior citizens, amusing dance moves of both adults and young ones alike, and, of course, that comical out-of-tune singing showdown gave us belly laugh. But, kidding aside, our sincerest "thank you" for allowing us to create a beautiful memory with you even for just a day.
If we knew what love and warm support is, it's because you were there to celebrate with us our 23rd anniversary. This made us believe that pushing through with our event even on an extreme weather condition was all worth it.
For a week, there was either typhoon Ompong battering the region or sweltering weather making the day almost unbearable but you were there even before we've set up everything. You patiently waited there, minding neither the parched throat nor the long queues. Though we know that a simple "thank you" won't even suffice because you stood by us from beginning till end, please accept our sincerest gratitude for making us feel loved so much!
Our heartfelt gratitude also goes out to the town and barangay officials for their warm welcome and assistance: Porac Mayor Carling Dela Cruz and Barangay Chairman Genario Dimalanta; Arayat Mayor Bon Alejandrino and Barangay Chairman Froilan Soriano; Apalit Mayor Peter Nucom and Barangay Chairman Jaime Manlapaz; San Simon Mayor Leonora Wong, Former Mayor Digos Canlas and Barangay Chairman Gerry Quiambao; Mabalacat City Mayor Cris Garbo and Barangay Chairman Jenny Cabuang; Bacolor Mayor Jomar Hizon and Barangay Chairman Javier Taruc.
RW AniberSAYA sa Barangay Part 2 was co-presented by: Nescafe Creamy White, Bear Brand and Savers Appliances.
Our Major Sponsors include Clark International Airport Corporation, The Hauslands, Nepo Center, SM Supermalls, Funnside Ningnangan, Maggi Magic Sarap, Department of Agriculture Region III and Betis Best Meat Products Inc.
Minor Sponsors were Jollibee, NGCP, Robinsons Starmills, Angeles City Water District, Clark Development Corporation and D' Chix Option Incorporated.
Special thanks to: National Food Authority Pampanga, Puregold Duty Free Clark, Sabels Chicken BBQ, City of San Fernando Muslim Community, Aqua Sparkletts, San Miguel Corporation and CLTV 36, our official media partner. Words will never be enough but to all the people of Barangays Tokwing, Porac; San Juan Baño, Arayat; San Juan, Apalit; Dapdap and Mauaque, Mabalacat City; and San Pedro, San Simon, "Dakal a Dakal Pung Salamat!". RW's AniberSAYA in the six barangays of Pampanga only proves that we are still and will always be your number 1 favorite radio station.
"Nukarin Ka Pa? Keni Na Ka!"