Nonoy Zuñiga Promises a Wonderful Evening With the Cabalens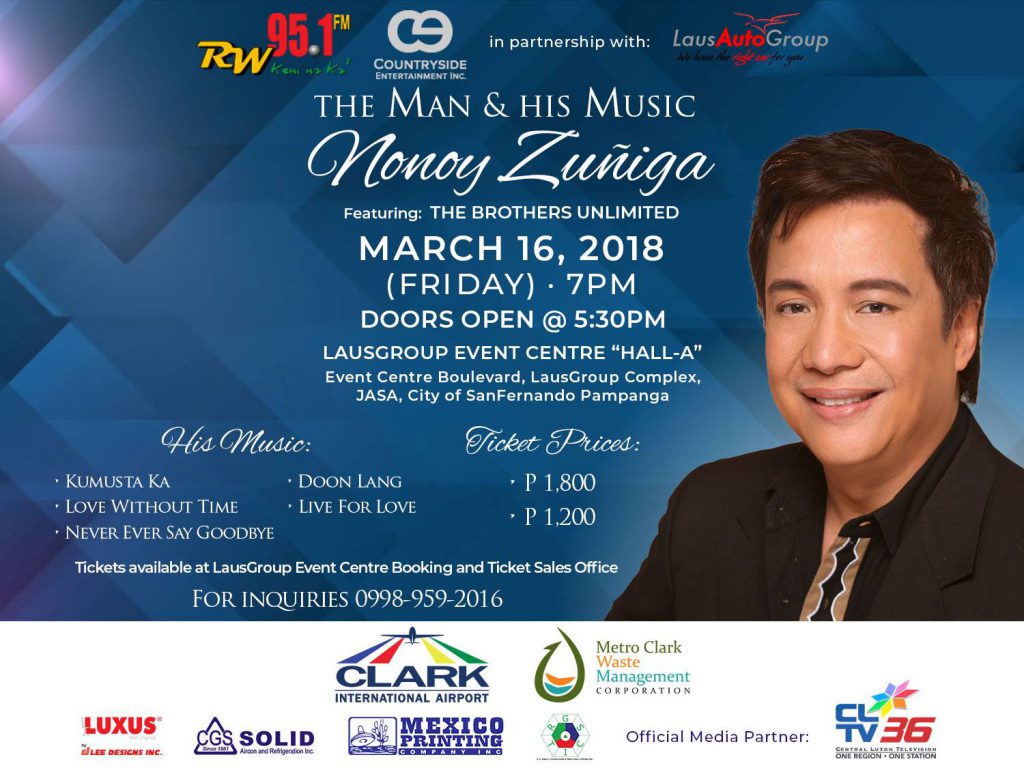 "For sure, they will be expecting my hits. But I'll also be performing other songs that I feel the Kapampangans would love to hear.  It's gonna be a wonderful evening! Promise!"
This was the promise of Nonoy Zuñiga when asked on what to expect on his upcoming show this coming March 16, Friday, 7pm at the LausGroup Event Centre Hall-A. He even promised that he will be injecting jokes to lighten up the mood in his concert.
He did not just show his funny side but he also shared how his life turned out from being in the medical field to being one of the country's top OPM icons. "After I got my diploma in Medicine, offers abroad poured in. Offers I can't refuse. I didn't get to practice it as a profession. But it helped me, my family and people who needed help in some other ways. It has become a vocation."
We asked him more about his personal life and his journey as an artist that he freehandedly answered:
Q: Every artist has a story to tell about his early days. In your case, who/what influenced you into becoming "Nonoy Zuniga"?
A: We are a musical family. In our younger years every weekend, my dad would host a program where we are asked to deliver a poem, song, play an instrument or dance. I would always sing. I would also hear my dad sing to my mom while singing along with a record played by a 50's phonograph. This is a regular thing in our home.   My family, especially my dad, greatly influenced my musicality.
Q: With all the awards and recognitions that you received all throughout your music career, which was the one that you were thankful for the most and why?
A: It's the Aliw and Cecil Awards (1981-1983) that really placed me on the competitive music stage.
Q: You have touched the lives of our fellow Filipinos through your music. Which among your greatest hits had the most impact in your life and why?
A: I love all the songs I recorded. But "Ako Ay Ikaw Rin" stands out the most everytime I sing it. It carries the message of equality in this world inspite of one's disability.
Q: You have been one of the most iconic balladeers in the Philippine Music Industry. Are there other genres of music that you have always wanted to explore? If yes, what are they? And why?
A: I started my music career early. At 14, I was a folksinger.  After 2 years, I joined the Family Birth Control Band as one of the lead singers. It is where I learned to sing songs from different genres esp. soul, r & b, ballad, & pop.
Q: Every performer has a unique way of preparing before he comes up on stage and sweep his fans off their feet through his music. What is yours?
A: A week before a major concert I keep myself protected from getting sick. I pray, plan, rehearse, and an hour before the show I take a glass or two of red wine.
Q: Is there a singer that you've always wanted to have a duet on stage with? Who would that be? And why?
A: On top of the list is Lou Rawls! I got the chance to meet him a few times here and in the US.
But he passed away 12 years ago.
Q: You have been a widely known figure in the music industry for decades now. Do you have any plans of retiring?
A: Nope
Q: What was the most challenging part of your career? And how were your able to overcome it?
A: Every concert is a challenge.  It's actually deciphering the audience you have that night – singing the right songs and delivering good spiels.  But most challenging is performing on stage and overcoming my limited mobility on stage. While performing, there's always the thought of reminding myself to be extra careful when walking onstage because a wrong turn may cause disaster – tripping and falling onstage. Since 1981, I have only tripped once. And that was only last year.
Q: You have performed in different places already and have continuously entertained your fans locally and internationally. Among all the concerts that you've had which one do you consider the most memorable and why?
A: Last April, 1984, I got the chance to perform in US television w/ super balladeer, Pat Boone and lovely actress, Donna Mills.
Catch one of the country's greatest balladeers, live at the LausGroup Event Centre Hall-A, March 16, Friday, 7pm. The Man and His Music: Nonoy Zuñiga is presented by RW 95.1 FM and Countryside Entertainment Inc. in partnership with Laus Auto Group. With major sponsors: Clark International Airport Corporation, and Metro Clark Waste Management Corp. ; minor sponsors: Lee Designs Inc., CGS Aircon & Refrigeration Inc., Mexico Printing Company Inc., and R.G. Simbillo Technologies International Corp. and the official media partner CLTV 36.
Tickets are now available at LausGroup Event Centre Booking and Ticket Sales Office, JASA, City of San Fernando, Pampanga. Ticket prices are P1,800 and P1,200 only. For reservations, please call 0998-959-2016.