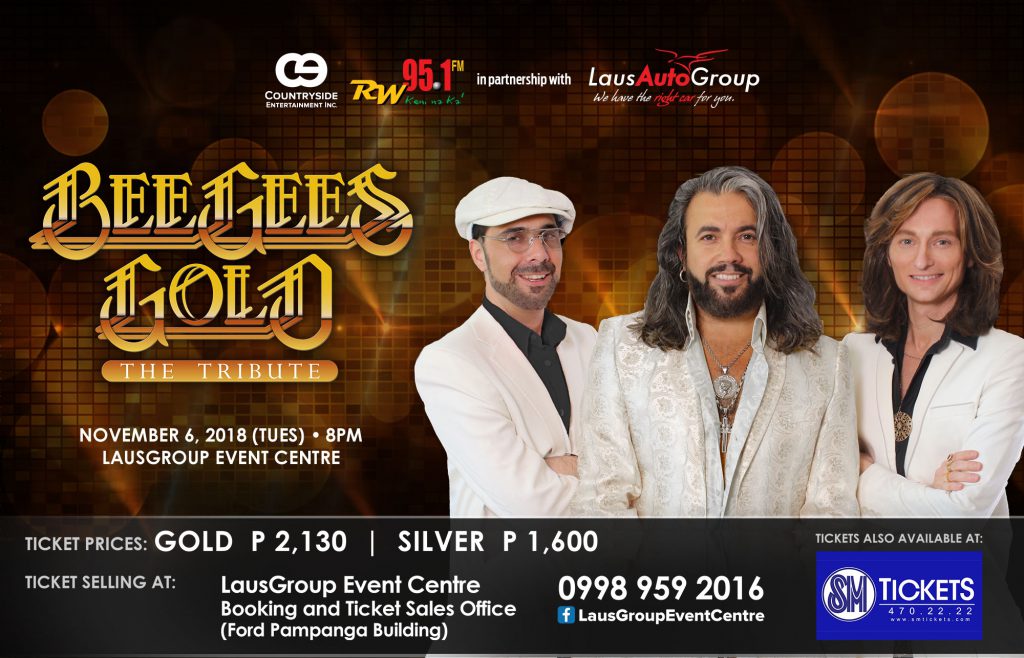 If you have never seen the Bee Gees perform live back in their prime, there's no way you should be letting this one shot to experience them—virtually—pass this time!
Your premiere concert destination, the LausGroup Event Centre, the same concert venue that brought so many music icons to you this close, now brings you the "BeeGees Gold Tribute" featuring John Acosta as Barry Gibb.
At a young age of 10, John Acosta has already grown a huge admiration for the legendary group Bee Gees. At a young age he has mastered mimicking the looks, moves and even distinct falsetto of Barry Gibb. The band undoubtedly exudes the spirit of the 70s era.
Together with his band mates, who look and sound identically like Robin and Maurice, the trio has irrefutably perfected every song piece and performances of the BeeGees making them the best band to be featured on AXS as the world's Greatest Tribute Band.
BeeGees Gold, one of the world's most talked about tribute bands that has performed all over the world, is finally performing here in the Philippines! Be the first to experience them live at the LausGroup Event Centre.
Put on your dancing shoes cause we are swaying the night away with your favorite groovy hits like "Night Fever", "Stayin' Alive", "Tragedy", "More Than A Woman", "Island In The Stream", "I Just Wanna Be Your Everything" and a lot more of your favorite BeeGees hits as John Acosta brings the music of BeeGees to life in the BeeGees Gold Tribute, November 6, Tuesday, at the Laus Group Event Centre.
BeeGees Gold Tribute is brought to you by Countryside Entertainment, Inc and RW 95.1 FM in partnership with Laus Auto Group. With sponsors: Angeles City Water District and Clark Development Corporation.
Tickets, priced at Php2,130 (Gold) and Php1,600 (Silver), are available at LGEC Booking and Ticket Sales Office, RW 95.1 FM and SM Tickets.
Don't let this chance slip by. Experience the music of BeeGees one more time! November 6, Tuesday at the Laus Group Event Centre.